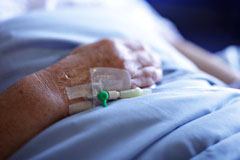 30 years ago I worked as an RN in a small community hospital in the Intensive Care Unit (ICU). It was there in this tiny 6 bed unit I learned one of life's greatest lessons. 7 PM, I arrived for the night shift, 12 hours in a cramped room with our patients against one wall. This night my patient was Pearl, she was 97 years young. Her chart said "heart failure." Pearl, my patient was someone's mother, daughter, sister, and friend; looking at her it was hard to think she was a bubbly little girl playing with her friends, spying a cute boy, a young bride, and mother. Pearl was a grade school teacher for over 30 years, a full life lived, a life played out over nearly a century. She looked frail and alone here in her ICU hospital bed. Noted on her chart was "sole survivor, no family," this meant that no one was coming. No familiar smiling face would come striding through that door, sit beside her, and hold her hand, or offer her sips of water.

In the days ahead I became that smiling face, pulled up a chair and sat with her. One evening I arrived for my shift, Pearl seemed sad. I took my familiar chair next to her; she reached out and with a fierce grip, Pearl held my hand. There we sat, not one word passed our lips, yet it seems we shared a lifetime of stories. On waking Pearl would say, "It's time for me to go home to the Lord." Death she would state boldly was late.

On arriving for my next evening shift, I checked in on her, there was a modest decline in her vitals, Pearl appeared weakened. Handing off my other patients to my colleagues, I sat with her, I held her hand, without uttering a word, we both knew she was finally leaving, going home as she put it. And so I sat with her, just the two of us amongst the bleeps and cries of machine and anguished souls in adjacent beds. Slowly her life slipped away, she was off on her last date of the night. Death had finally come. As her rattling breath came to its last inhale, her eyes opened wide and a smile spread across her face, she squeezed my hand, then let go she was gone. I thought death had arrived late, in retrospect, death's seemingly late arrival turned out to be an opportunity. In our last hours together, my patient and I bonded; we experienced something far more important than either of us would ever realize.

As Pearl's nurse, I ensured she received the best of care, respect and dignity; Pearl gave back so much more in her few remainging days, she became my teacher, and before she left this life, I received a lifetime of wisdom from Pearl. "Pearl's Wisdom" I would say as I drew my chair up close to her bed, before I realized it her caretaker became her student. Pearl's wisdom included many things, I'll share the most important ones here- How living robustly and fully brings fulfillment to ones life, facing life's difficulties head on with courage, to never look back, keep moving forward, importance of friendship and love- for these are foundations of a happy and full life.

Today, more than a quarter century later, I share what I learned long ago, in an old community hospital's ICU with my loved ones, friends, students, and patients alike. Giving back is what Pearl showed me, and hope to show you as I share Pearl's Wisdom with those I meet or care for everyday.

And so I hope my teacher of some 30 years ago has found the peace she was looking for. I learned much from Pearl, I think of her daily and thank her for the gift she shared with me on her last night in that long ago ICU where she and I sat together holding hands until her eyes closed for the last time; and Pearl went home.


Share Your Story with us
on Childabuse.com
ABOUT THE AUTHOR
Gregory Chase, MSHED, MS Clinical Medicine, PA-C, RN is a Physician Assistant in Emergency Medicine at a local hospital.
Volunteer Student Run Health Care Clinic UC Riverside School of Medicine read more Student Run Health Clinic
Founder & Director of Childabuse.com