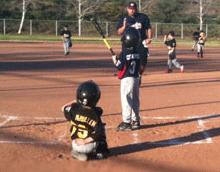 While waiting for a haircut, at a local barber shop, a well dressed man came in with a flyer in hand stepped to the counter and asked the lady if the shop could help donate for his son's baseball team; he proudly announced that his son was on the Riverside (California) Poly High School Baseball team- visit www.polybaseball.com. The clerk behind the counter was not sure if they could donate a haircut or not, undeterred he requested to speak with the owner or manager. The manager/owner agreed to help him and his son's team out. I knew watching this man he loved his son, spoke of his wife, family with pride; I had the pleasure of briefly meeting him, and knew I met a real man who goes to bat for his family, son and wife. So if you're ever in Riverside, California or just surfing the net see where real men love their children at Polybaseball.com There's nothing like a father's love.
Share Your Story with us
on Childabuse.com
ABOUT THE AUTHOR
Gregory Chase, MS, PA-C, RN is an Associate Physician - Founder & Director of Childabuse.com author, and educator.